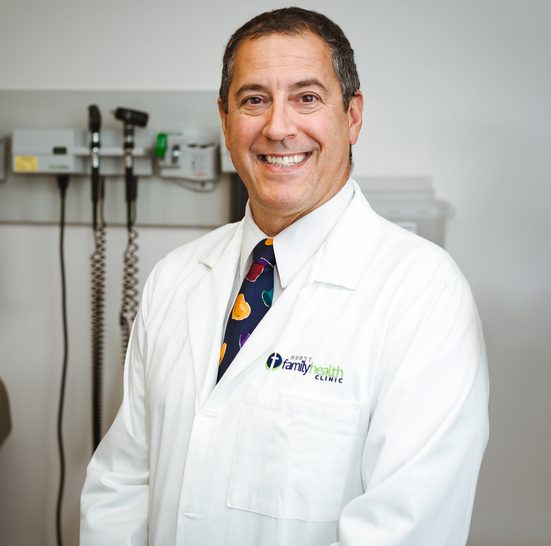 Jonathan Sorci, MD
June 25, 2018 Hurtt Family Health Clinic
Biography: 
Dr. Jonathan Sorci, M.D., Sc.D. is the Medical Director of the Hurtt Family Health Clinic, overseeing clinics in Tustin, Anaheim and Santa Ana, CA. He is fluent in English and Spanish, and is board certified in Family Medicine by the American Board of Family Medicine.
He has been practicing Family and Community Medicine in Southern California for the past 14 years, and has worked in a variety of clinical settings and capacities, including solo private and group practice, urgent care, skilled nursing facilities, hospitalist, and academic medicine and research.
Formerly, Dr. Sorci was an Assistant Clinical Professor of Family Medicine at the University of California, Riverside School of Medicine, practicing family medicine and teaching medical students and residents in Palm Springs, CA.
From 2006 to 2011, Dr. Sorci was president and CEO of Be Well Family Health Care, Inc., his solo practice in family medicine in Fallbrook, California.  He then worked in Vietnam as the first Medical Director responsible for opening a new, secondary care international hospital.  Later, he was the Clinic Medical Director at U.S. HealthWorks Medical Group in Lake Forest, CA and also worked part-time at an AFC Doctors Express urgent care clinic in Santa Clarita, CA.
During medical school, Sorci participated in a two-month tropical medicine and community development program in Ecuador, where he served in a hospital in the Amazon jungle, treating the indigenous population.
He completed his doctorate in environmental health science from the Harvard School of Public Health studying the effects of pollution on the health of both individuals and populations.
Aside from his academic appointments and his professional experience in medicine, Sorci is also very active in community service. He has organized and initiated multiple donations and programs for various foundations and even established the Jonathan James Sorci Award for Outstanding Academic Achievement in Organic Chemistry at Colorado School of Mines in 1991. Sorci also served the Albert Schweitzer Fellowship in Boston, where he started a music program in a public school for disadvantaged youth and is considered a Fellow for Life.

Philosophy:

His practice philosophy is to treat all patients with respect, dignity, competence and compassion.  Abiding by the 'Golden Rule' of treating people as one would want to be treated' has served him well, as he can relate to his patients with loving and competent health care.
Hurtt Family Health Clinic
Medical Staff
Share